How to Get Your Steam API Key
Categories:
Guides
|
Published by:
Corey
How to Get Your Steam API Key
What are API Keys?
When you first get into Skin Trading online, you will often need to provide a Steam account API key for that particular site.
But what is an API key and why is the web API key needed?
First, the API which stands for (application programming interface) is an interface that will connect API calls and different systems together and allow them to access and communicate, what kind of information they can exchange and what protocol is needed. This can sometimes be crucial in Skin Trading as it allows the Skin trading site and Steam to directly talk to each other on request with each generated key and web API key being unique for each separate website, domain and account.
How to Get Steam API Key
The first step: Is you need to Sign up for a Steam API Key. This can be done by simply visiting Steam's API Key signup page.
Its important to take note that, it will require you to be logged into Steam then you will need a domain name to register it to, which will often be the domain of the trading site you trade from when you create.
Here is what you should see when you register for a Steam Web API key.
Finding Secure Platforms
Hence we have a list of trusted domains on our site such as the most popular trading sites for CSGO. After you have filled out the right domain name and click register button, you will then be shown your new key. If you want to revoke the key and create a new one you can easily click the Revoke button and then register a new key if needed.
Your Steam Unique API Key for Chosen Site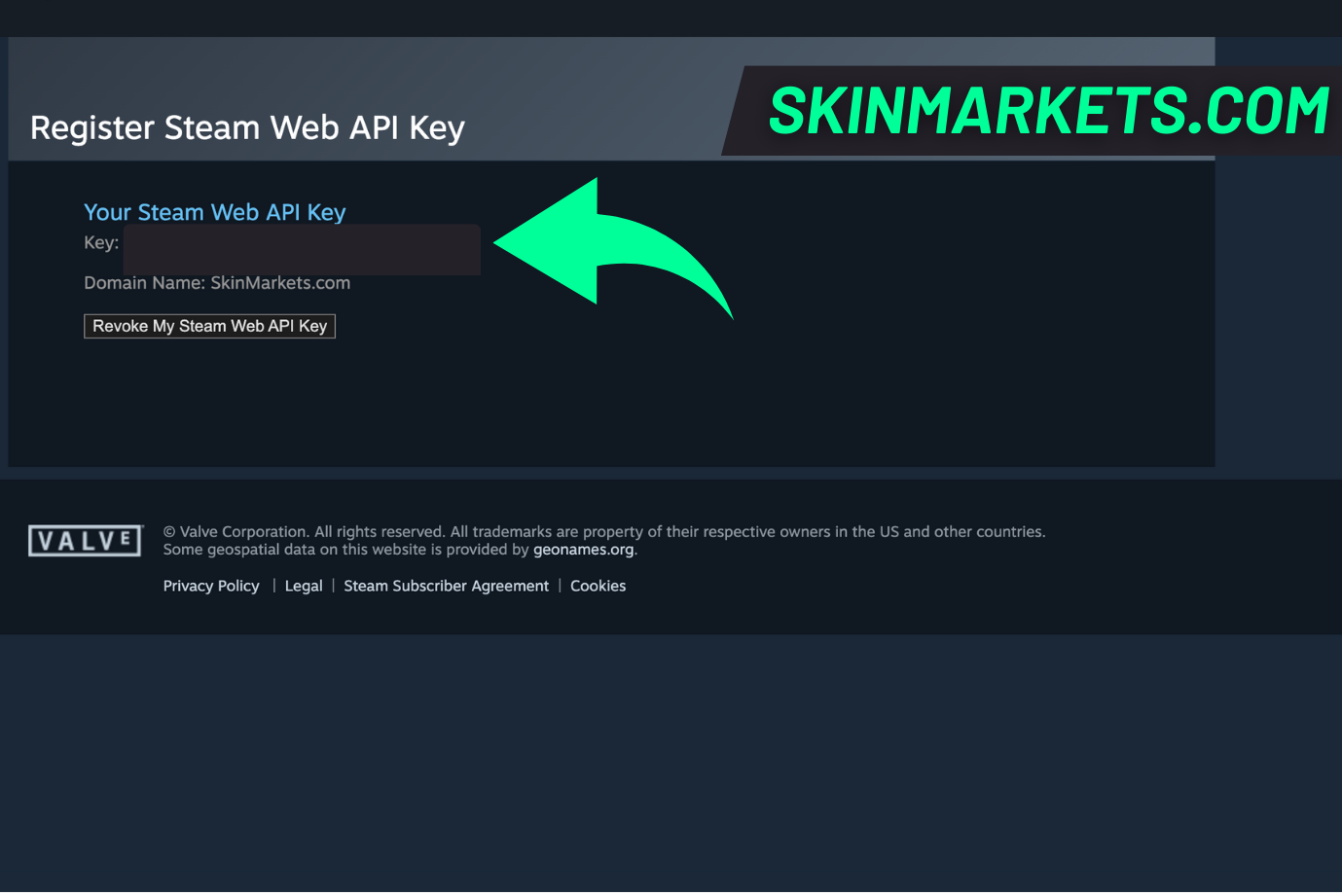 Picture of an API key that has been generated by Steam.
Keep Your Steam Web API Key Private
You should always make sure your Steam web API key is kept secure by keeping a secure password at all times on your Steam account, and only getting the key settings with trusted domains.
Keeping your Account Secure
You should never share your Steam Account settings and passwords with anyone else. This will prevent unwanted access to your data and Steam profile.
Trusted Parties
As stated previously you should only try to get a Steam web API from a trusted website, this is crucial when creating a Steam web API key. As a user when creating a key you want to be as secure as possible and very important to take note of and staying safe within the Steam server.
Dont Keep a Log
We recommend not keeping a log of the API code and not putting it on any server or hard drive as this can make it easy to find and search for. If you lose your code we recommend generating a new one.
Conclusion
Steam has made its API available to trade on the Steam Community Market, thus has made the possibilities greater, as Third-party marketplaces that can be found on our site, are all making use of the availability of the Steam API. This then improves the connection and communication between the two platforms. Using a Steam API key for these trading services will make it much easier. You will also need your Steam Trade URL in conjunction with your API key to make the process even smoother.
Relevant news